On June 30th, I had the pleasure of attending my first-ever marketing conference here in Tallahassee, The Creat.ors Summit 2023! At the two-part, single-day conference hosted by the Capital City Chamber of Commerce (CCC), attendees learned about valuable marketing resources, obtained new social media skills, and received tips from local professionals in the industry. The summit also fell on National Social Media Day, which meant there were plenty of opportunities for content creation. Overall, it was a great time networking with other entrepreneurs and creators in the area while gaining new marketing tools & resources. Keep reading to learn more about my experience at Creat.ors Summit 2023!
Part 1: The Creat.ors Summit
The first part of the summit took place at TCC Center for Innovation from 8:30 am until 11:00 am. Upon arrival, attendees were directed to the conference room to mingle, enter giveaways, and enjoy coffee & pastries. Each table was decorated with candies and building blocks for those who like to snack & fidget (such a fun touch!). RJ Singleton and Tam Smith kicked off the event by welcoming attendees and encouraging them to create content throughout. Then began the series of keynote speakers with fun activities & giveaways sprinkled throughout!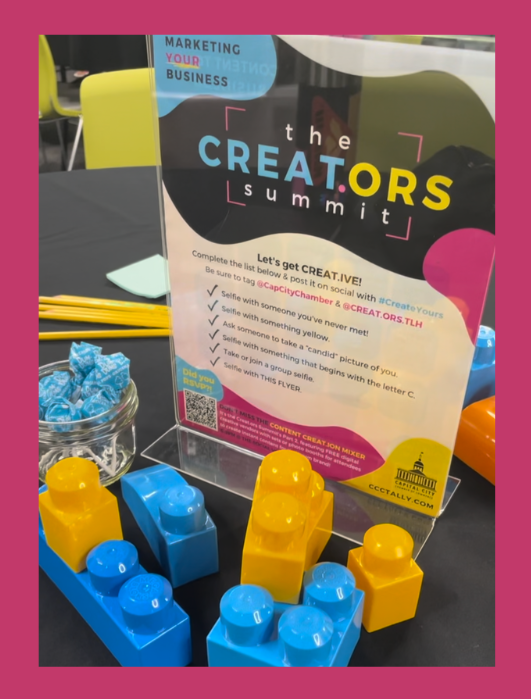 Torrey Ford – Sr. Account Executive & On-Air Personality, Cumulus Media
First, we heard from Torrey Ford from Cumulus Media, the third-largest owner-and-operator of AM and FM radio stations in the US. Torrey's presentation was called "Marketing with Heart: Creat.ing Community/National Connections." He gave helpful insights into radio advertising and answered the crowd's questions regarding community engagement and social responsibility. 
Julia Holly – Owner, JH Creative
Second, we heard from Julia Holly from JH Creative, a small, Tallahassee-based creative studio in Railroad Square. Julia's presentation was called "Creat.ive Planning Made Easy: A Comprehensive Course." She provided great tips for using social media to grow businesses, such as using new features while social media platforms promote them. Julia even offered free access to "JHC's Creative Content Transformation Course" exclusively for summit attendees!
Nipa Eason – Creative Director, SalterMitchell PR
Third, we heard from Nipa Eason from SalterMitchell PR, a local communications consultancy focusing on Florida-based businesses. Nipa's presentation was called "Marketing w/ no Money: Maximizing Your Resources." She gave valuable advice on handling your marketing strategy with a low budget and emphasized the importance of investing in a good logo and a strong website. Her session was chock-full of information about creating content without breaking the bank.
Teylor Parks – Social Strategist, Formerly Known As / Owner, Breathe in Color / Influencer
Fourth, we heard from Teylor Parks from Formerly Known As, a creative agency that has worked with well-known brands like Verizon, Pop-Tarts, and Audi. Teylor's presentation was "Creat.ive Brand Building on Social Media." As an influencer/content creator, she discussed how to utilize social media to build brands and even gave examples of brands such as Starbucks. 
RJ Singleton – Digital Video Producer, NaNuKo Digital Productions & BobbleHeadz / Director Of Communications, Capital City Chamber of Commerce
Finally, RJ Singleton (summit co-host) from CCC took the podium to lead a floor panel discussion called "Creat.ive F-Ups: Knowing What F-Ups to Keep." He encouraged attendees to use this time to chat amongst themselves to discuss the importance of taking risks and embracing imperfection as a part of the creative process. Once the discussion was over, RJ and Tam dismissed attendees until part two, the Content Creation Mixer!
Part 2: Content Creat.ion Mixer
The second part of the summit took place at The Social Vegan, a local vegan restaurant, at 6:00 pm. Along with great music and good vibes, there were photo and product booths at the mixer for attendees to use for content creation. The food and frozen drinks made this event even better—the buffalo cauliflower "wings" were to die for. It was the perfect ending to the first-ever Creat.ors Summit!
Final Thoughts
The Creat.ors Summit was an experience I'll never forget! It was awesome getting to connect with and hear from local individuals & entrepreneurs with similar interests. I look forward to utilizing the skills I learned in my everyday workflow and can't wait for the next Creat.ors Summit. Shoutout to my incredible employer, Grova Creative, for allowing me to use this experience to grow my content creation skills!